Scientific Publications
Integrated theoretical and empirical studies for probing substrate‐framework interactions in hierarchical catalysts
Stephanie Chapman, Alexander J. O'Malley, Ivana Miletto, Marina Carravetta, Paul Cox, Enrica Gianotti, Leonardo Marchese, Stewart F. Parker, Robert Raja
Chemistry – A European Journal, 2019, 25 (42), 9938-9947, DOI: https://doi.org/10.1002/chem.201901188
Influence of Silicodactyly in the Preparation of Hybrid Materials
Chiara Ivaldi, Ivana Miletto, Geo Paul, Giovanni B. Giovenzana, Alberto Fraccarollo, Maurizio Cossi, Leonardo Marchese, Enrica Gianotti
Molecules, 2019, 10(7), 24(5), 848-862, DOI: https://doi.org/10.3390/molecules24050848
Synthesis of 2D and 3D MOFs with tuneable Lewis acidity from preformed 1D hybrid sub-domains
José María Moreno, Alexandra Velty, Urbano Díaz, Avelino Corma
Chemical Science, 2019, 10(7), 2053-2066, DOI: https://doi.org/10.1039/C8SC04372H
In Situ FT-IR Characterization of CuZnZr/Ferrierite Hybrid Catalysts for One-Pot CO2-to-DME Conversion
Ivana Miletto, Enrico Catizzone, Giuseppe Bonura, Chiara Ivaldi, Massimo Migliori, Enrica Gianotti, Leonardo Marchese, Francesco Frusteri, Girolamo Giordano
Materials, 2018, 11(11), 2275, DOI: https://doi.org/10.3390/ma11112275
Elucidation of the Interaction Mechanism between Organic Chiral Cages with Biomolecules through Nuclear Magnetic Resonance and Theoretical Studies
Sara Sáez-Ferre, Mercedes Boronat, Ángel Cantín, Fernando Rey, and Pascual Oña-Burgos
The Journal of Physical Chemistry C, 2018, 122(29), 16821–16829, DOI: https://doi.org/10.1021/acs.jpcc.8b05069
Chiral hybrid materials based on pyrrolidine building units to perform asymmetric Michael additions with high stereocontrol
Sebastián Llopis, Teresa García, Ángel Cantín, Alexandra Velty, Urbano Díaz, Avelino Corma
Catalysis Science & Technology, 2018, 8, 5835-5847, DOI: https://doi.org/10.1039/C8CY01650J
Combined solid-state NMR, FT-IR and computational studies on layered and porous materials
Geo Paul, Chiara Bisio, Ilaria Braschi, Maurizio Cossi, Giorgio Gatti, Enrica Gianotti, Leonardo Marchese
Chemical Society Reviews, 2018, 47, 5684-5739, DOI: https://doi.org/10.1039/c7cs00358g

Hierarchical SAPO‐34 Architectures with Tailored Acid Sites using Sustainable Sugar Templates
Ivana Miletto, Chiara Ivaldi, Geo Paul, Stephanie Chapman, Leonardo Marchese, Robert Raja, Enrica Gianotti
Chemistry Open, 2018, 7(4), 297-301, DOI: https://doi.org/10.1002/open.201800001
Ab Initio Design of Low Band Gap 2D Tin Organohalide Perovskites
Alberto Fraccarollo, Leonardo Marchese, Maurizio Cossi
The Journal of Physical Chemistry C, 2018, 122(7), 3677–3689, DOI: https://doi.org/10.1021/acs.jpcc.7b08928
Mesoporous silica nanoparticles incorporating squaraine-based photosensitizers: a combined experimental and computational approach
Ivana Miletto, Alberto Fraccarollo, Nadia Barbero, Claudia Barolo, Maurizio Cossi, Leonardo Marchese, Enrica Gianotti
Dalton Transactions, 2018, 47, 3038-3046, DOI: https://doi.org/10.1039/C7DT03735J
First principles study of 2D layered organohalide tin perovskites
Alberto Fraccarollo, Lorenzo Canti, Leonardo Marchese, Maurizio Cossi
The Journal of Chemical Physics, 2017, 146, 234703, DOI: https://doi.org/10.1063/1.4985054
Mesoporous silica scaffolds as precursor to drive the formation of hierarchical SAPO-34 with tunable acid properties
Ivana Miletto, Geo Paul, Stephanie Chapman, Giorgio Gatti, Leonardo Marchese, Robert Raja, Enrica Gianotti
Chemistry – A European Journal, 2017, 23(41), 9952-9961, DOI: https://doi.org/10.1002/chem.201701978
Public Deliverables
Our first Dissemination Activities Report is now ready for download.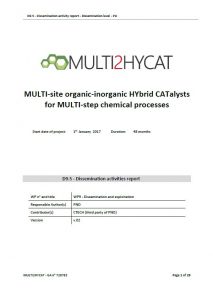 General Information
Have a look at our project poster describing the objectives of the project, the benefits for the public, the environment and the chemical industry as well as the project Partners.
The project brochure is available here and compiles the information of the poster into a hand-held format.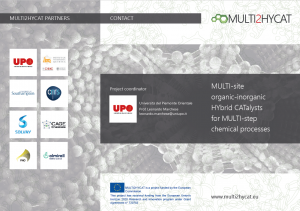 The MULTI2HYCAT project roll up banner is available here.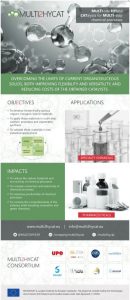 Event-related Downloads
In September 2018, project partner Almirall attended BioSpain 2018 and participated in a round table discussion focused on partnerships in Pharma. The presentation is available for download here.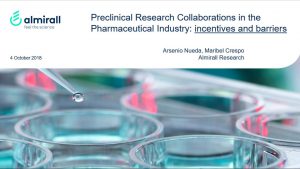 The MULTI2HYCAT Summer School was held on 5 – 6 July 2018 in Valencia (Spain) immediately after the 18-month project meeting. Download the invitation, the book of abstracts and the "Summer School in Pictures" article in this section. For more information visit http://www.multi2hycat-summerschool.eu/ and check our photo albums at the ITQ-Facebook page and the MULTI2HYCAT-Facebook page.